News
Russia must face trial for 'crime of aggression' in Ukraine, UK cross-party leaders say | Ukraine
Demands for a special tribunal to investigate Russia for the "crime of aggression" against Ukraine have been backed by senior British politicians from across the political divide in a bid to show Vladimir Putin and his generals that they will be held to account.
In a joint statement shared with Observerfigures including Labor leader Keir Starmer, former NATO secretary-general George Robertson, former foreign secretary David Owen and former Tory leader Iain Duncan Smith say the tribunal should be set up to investigate the "manifestly illegal war" on the same principles that led the Allies when they met in 1941 to lay the groundwork for the Nuremberg war crimes trials of Nazi leaders.
While the International Criminal Court (ICC) already hears allegations of war crimes and crimes against humanity related to the invasion of Ukraine, proponents of the special tribunal say it is needed because the ICC does not have the authority to investigate the crime of aggression. The United Nations defines an act of aggression as "an invasion or attack by the armed forces of one state on the territory of another state or any military occupation."
The special tribunal would put additional pressure on Russia and Putin, say its advocates. It would prevent senior Russian officials from traveling for fear of arrest, show solidarity with Ukraine, which has requested the tribunal, and send a message to the international community that aggression will not go unpunished. The role of Belarus would also be examined.
"It has been 10 months since Russia, backed by Belarus, launched one of the largest land invasions in Europe since World War II," they write. "Since then, thousands of Ukrainian civilians have been killed or injured, 8 million people have been internally displaced, and around 8 million have become refugees." Civilian infrastructure and economic assets worth tens of billions were destroyed or looted, and irreplaceable cultural monuments were turned into ruins.
"If proven in a court of law, these acts of aggression could constitute what the Nuremberg trials called the 'supreme international crime.' Because it is a crime of aggression from which most other international crimes often stem – war crimes, crimes against humanity and genocide.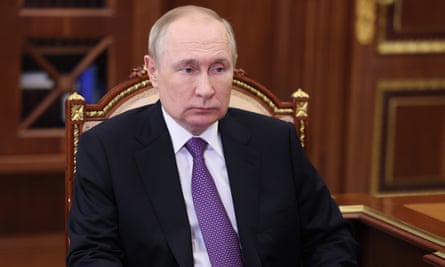 The statement was drafted by former prime minister Gordon Brown and Philip Sands, the law professor who first floated the idea of ​​a special tribunal. Other signatories to the statement include human rights lawyers Cherie Blair and Helena Kennedy.
The Netherlands has previously said it is ready to host such a tribunal with UN support. European Commission President Ursula von der Leyen also said a new tribunal with broad support was needed to ensure the Russian invasion did not go unpunished. A Ukrainian delegation traveled to the US last month in an attempt to gain support for the move.
A British government spokesman said: "Evidence is mounting that horrific atrocities were committed during Russia's illegal and immoral invasion of Ukraine." We actively support Ukraine's domestic justice system, investigations and prosecutions, as well as the investigation led by the ICC. We are, of course, carefully considering other proposals for mechanisms to hold Russia accountable.
The move came as Russia continued its attacks across Ukraine on Saturday, despite declaring a unilateral ceasefire for Orthodox Christmas celebrations. In one attack in eastern Bakhmut, a couple of civilians in their 60s were killed.
Some of the fiercest fighting took place around the nearby town of Kremina, in Lugansk, the British Ministry of Defense said. The Russian-appointed governor of Sevastopol, Crimea, also said air defenses shot down a Ukrainian drone apparently trying to attack the port.
The Ukrainian government dismissed the ceasefire as a cynical move by the Kremlin, especially after heavy Russian attacks during Ukraine's December 25 and New Year celebrations.
In Kyiv, the priests of the Ukrainian Orthodox Church held a Christmas service in the Ukrainian language in the historic Pechersk Lavra monastery, one of the most important religious buildings in the city. Until just a few weeks ago, it was under the control of the Moscow-loyal Orthodox Church, whose priests throughout Ukraine are suspected of pro-Kremlin sympathies.