News
Peru protests: 17 dead in fresh clashes as calls grow for President Boluarte to resign | Peru
At least 17 people were killed in fresh clashes between protesters and security forces in Peru as anti-government protests turned deadly again, bringing the total number of people killed in unrest across the country since the ouster and arrest of former president Pedro Castillo to nearly 40 a month ago. of the day.
Bloodshed broke out near the airport in the southern Puno region of Huliaqui city on Monday as protesters clashed with police. Images on social media showed gunshot wounds and plumes of smoke as protesters hurled rocks using sledgehammers and metal plates as shields.
Other footage appeared to show the man receiving CPR and images of injured protesters arriving at the hospital. The boy died in an ambulance that protesters prevented from reaching the hospital.
The rising death toll comes amid growing protests calling for President Dino Boluarte to resign, Congress to be shut down and Castillo to be released from prison. Boluarte was Castillo's vice president who replaced him after he tried to shut down Congress and the government by decree on December 7.
In a televised address late Monday, Peruvian Prime Minister Alberto Ottarola defended the security forces' response, saying: "We will not stop defending the rule of law." Accompanied by ministers, he claimed that violent groups funded by "foreign interests and the dark money of the drug trade" were trying to "destroy the country".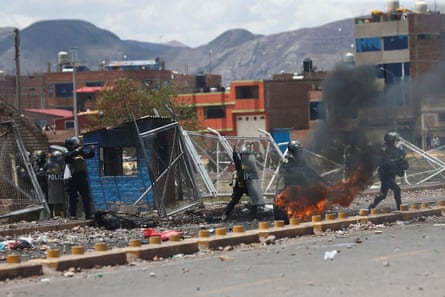 Otarola said the police were attacked with homemade weapons and that while he regretted the deaths, he blamed Castillo's attempted "coup d'état" for fueling the unrest. He added that his government is defending "the peace and tranquility of 33 million Peruvians."
Speaking at a "national accord" meeting earlier Monday with representatives of the country's regions, Boluarte said she could not meet some of the protesters' key demands and accused them of not understanding what they were asking for. "What you're looking for is an excuse to continue creating chaos," she said.
However, the Office of the Ombudsman of Peru announced further Twitter: "We ask the law and order forces to use force lawfully, necessary and proportionately, and we appeal to the state prosecutor's office to conduct an urgent investigation to clarify the facts."
International Committee of the Red Cross tweeted: "We are very concerned about the continued escalation of protest violence in Peru, which has led to the loss of dozens of lives.
Defense Minister Jorge Luis Chavez said 75 policemen were among the injured. He said they were attacked with firearms and explosives during a five-day attack on Juliaca near Peru's southern border with Bolivia.
But calls for Boluarte's resignation continue as Otarola and his cabinet face a confidence vote in Congress later on Tuesday.
"Massacre after massacre solves absolutely nothing," tweeted Javier Torres, editor of the regional newspaper Noticias Ser. "It is urgent that Dina Boluarte's resignation be announced as soon as possible!