Entrepreneurship
Jasiri Talent Investor Program 2023 for young East African entrepreneurs.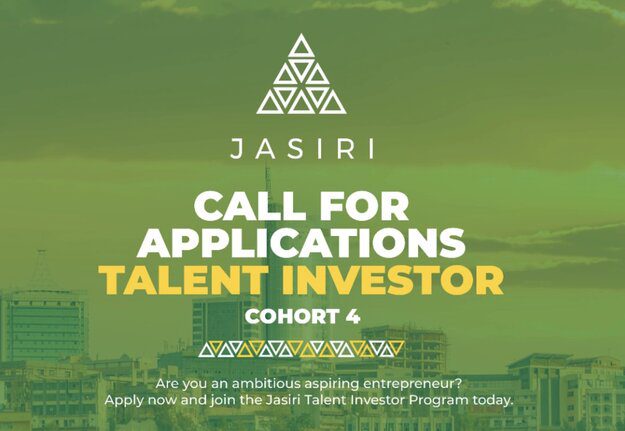 Application deadline: April 23, 2023
The Jasiri Talent Investor invests and focuses on individuals first before companies, teams or ideas. The program guides selected Jasiri Fellows through all stages of venture creation from idea to business formalization. Jasiri is looking for highly motivated individuals with a history of achievement and/or entrepreneurial drive who aspire to launch high growth ventures.
The ideal candidate:
You are driven and committed to building an innovative, high-growth venture from scratch.
You have a proven track record of achievement and entrepreneurial action, which means:

You are able to identify opportunities and gaps in the sector of interest.
You have a history of achievement and evidence of impact wherever you put your attention.

You have significant insights and expertise in a field or industry.
You are a team player and excited to meet equally ambitious co-founders.
You are a citizen of Ethiopia, Kenya or Rwanda residing in the respective country or diaspora.
You commit to fully and actively participate in the Talent Investor program for 14 months, including a 3-month Residential Intensive in Rwanda.
Important Notice:
Women entrepreneurs are strongly encouraged to apply.
Candidates living in the diaspora are also encouraged to apply.
The Jasiri Talent Investor program includes a mandatory 3-month residential intensive in Bugesera, Rwanda.
Selection Process:
Step 1: Fill out and send yours application

Applications will be reviewed on a regular basis

Step 2: End assessment of entrepreneurial intentions within 7 days.

Successful candidates will proceed to the next stage, i.e. receive a link to evaluate the innovation scenario.

Step 3: End evaluation of the innovation scenario and submit a pitch video.

Successful candidates will proceed to the next stage, i.e. receive a link for the psychometric test.

Step 4: Take it JASIRIPsychometric test.

Successful candidates who pass the psychometric test move on to the next stage, namely the selection conference.

Step 5: Attend Selection conference
Final Step: Announcement of the selected scholarship holders.

Selected candidates will be notified of their acceptance into the program after the Selection Conference.
For more information:
Visit the Jasiri Talent Investor Program 2023 official website