Entrepreneurship
An entrepreneur helps immigrants succeed in new business ventures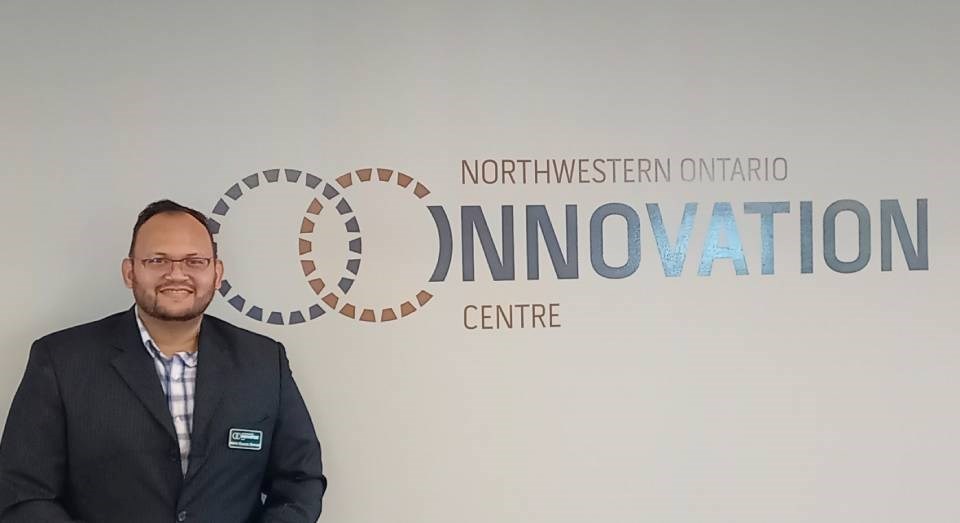 Mario Escoto Damas built a successful company after immigrating to Canada in 2019 and has since been appointed CEO of the Northwestern Ontario Innovation Center
Mario Escoto Damas arrived in Canada to expand his family's business. Now, the Honduran-born entrepreneur is helping other newcomers grow their own businesses while putting Thunder Bay on the map as a burgeoning center of innovation.
"I grew up in a family of entrepreneurs," Escoto Damas said. "My parents, who worked in the fields, moved to San Pedro Sula in search of opportunities. There was no work, so they started their own company."
In 2019, Escoto Damas landed in Toronto to participate in a boot camp offered by LatAm Startups, an accelerator that helps international companies launch into the Canadian market. LatAm Startups opened the door for him to immigrate under the Startup Visa program, a federal program that aims to attract entrepreneurial talent so they can build their companies in Canada, creating jobs and generating wealth.
According to official statistics from Immigration, Refugees and Citizenship Canada, 1,860 people were admitted as permanent residents through the Startup Visa between 2015 and March 31, 2022. According to Sobirovs Law Firm, the program has a success rate of more than 75 percent.
In three years, Escoto Damas has built a successful company here and was recently named executive director of the Northwest Ontario Innovation Centre.
"It was a way for my journey to come full circle," he said. "I mean, I've already spent a lot of time mentoring and training entrepreneurs." But still, my primary job was to run my company and oversee the operations of our family business, both in Honduras and for our Canadian expansion."
For Escoto Damas, the visa approval process was fraught with obstacles. First, the system bogged down in 2020 due to the pandemic. Then he had to overcome his hesitation about moving to a new country.
"My intention, in the beginning, was not to immigrate to Canada." I saw it as a business opportunity, as a way to expand our business and access an advanced market," he said, adding that after much thought and even though he had a comfortable life in Honduras, he decided to make the leap and become the only one in his family to moved to the Great White North.
"Even then, I planned to be back and forth between Canada and Honduras.
Escoto Damas took advantage of the digital transition taking place in 2020 and launched BeltecHub, a technology-driven manufacturing hub for conveyor belts, timing belts and other equipment. The technology component was key for the company to thrive in Canada and has become a Startup Visa success story.
"We are already employing five people directly and four people indirectly, all Canadian citizens or residents, so we have achieved one of the goals of the Startup Visa program, which is job creation," he said.
In addition to running his company, one of Escoto Damas' passions has always been mentoring new entrepreneurs. It's something he's been doing since he started working in the family business in Honduras. He is particularly interested in helping newcomers because he understands from his own experience how difficult the adaptation process can be.
However, he never expected that his penchant for mentoring would be the key that opened the door to a new phase in his career.
"I feel grateful that we can be an example of how we can contribute and in my case, I'm really happy because now I use that experience to help others who are in the same shoes as me."
"And I'm looking forward to helping even more newcomers get comfortable with their jobs."
As he talks about Thunder Bay's potential, Escoto Damas is encouraged. The Northwest Innovation Center already has success stories such as Meaglow, a high-tech semiconductor manufacturer that counts NASA among its clients and received an RBC Innovation Award. And BioNorth Solutions, an environmental company developing creative ways to absorb spilled contamination.
"Thunder Bay offers significant opportunities, for example, in fiber optics, mining and many other sectors. And our goal is to match them with the talent that is coming," said Escoto Damas.
"A lot of international students come to Thunder Bay, whether it's Lakehead or Confederation College. As of now, most of them are leaving, but our goal is to get them to stay, to show them the opportunities that exist and say, "Here's a place where you can build your future and contribute to the community."
---
New Canadian Media/Local Journalism Initiative